Harvest Catering has a lot of experience with receptions and fully understands what is expected by us at this very important event for your company or family.
The atmosphere should be informal and relaxed, but the presentation of the food should send out a clear message that when you do something you do it properly.
It is not enough that the food is delicious, it should also be served on elegant porcelain and by professional waiters. These small details make the big difference.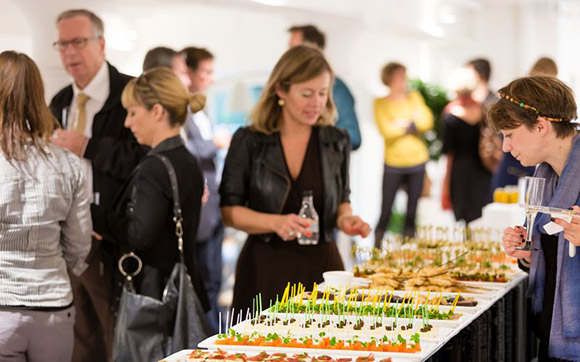 Menu Example (just one of many possibilities)
DKK 130 per person
Chili sausage with marinated garlic
Pate on toasted durum bread with cornichon
Smoked salmon with fresh cream cheese
Grilled tuna topped with spicy seaweed salad
Brie cheese with olive tapenade
Goats cheese served on toasted rye bread with red onion marmalade
Tiger prawns fried in garlic with chili mayo
Chocolate petit four
Served at Change Group's anniversary reception.